Casting Call!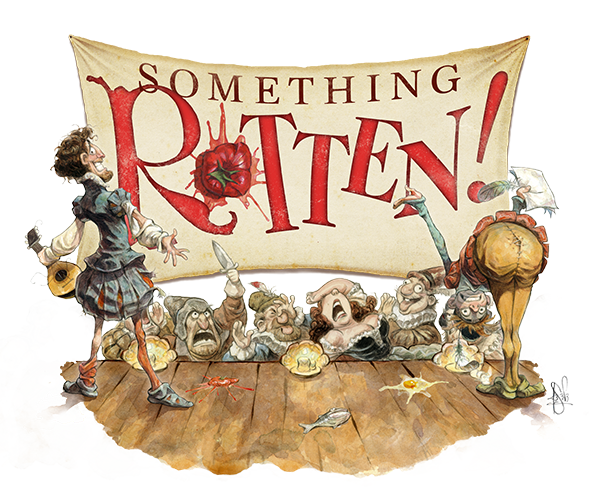 ---
Spotlight Players is very excited to announce Open Auditions for Something Rotten! Auditions will be held on:
Wednesday, January 11th
7pm-9pm

and

Saturday, January 14th
10am-1pm

at

First Presbyterian Church
883 Rt 34
Matawan, NJ 07747
Please prepare 32 bars of any song that will demonstrate your abilities. Please bring sheet music in the key you are singing and be prepared to dance. You may also be asked to read sides from the show.

Performance dates are March 17th, 18th, 24th, and 25th at 8pm and March 19th and 26th at 3pm.

If you are not able to attend in person, video submissions will be accepted until midnight on Friday, January 13th. Please send to [email protected].

We are looking to cast Teens and Adults (ages 13+). All parts are open. We encourage all ethnicities, cultural backgrounds, and gender expressions to audition! A headshot and resume is helpful but not required.

ABOUT THE SHOW
Join us, long before the dawn of premium tickets, star casting and reminders to turn off your cellphones: Set in the 1590s, brothers Nick and Nigel Bottom are desperate to write a hit play but are stuck in the shadow of that Renaissance rock star known as "The Bard." When a local soothsayer foretells that the future of theatre involves singing, dancing and acting at the same time, Nick and Nigel set out to write the world's very first musical. But amidst the scandalous excitement of opening night, the Bottom Brothers realize that reaching the top means being true to thine own self, and all that jazz.  An uproarious dose of pure Broadway fun and an irresistible ode to musicals—those dazzling creations that entertain us, inspire us, and remind us that "everything's better with an exclamation point!"

CHARACTER BREAKDOWN
All ages are just a suggestion and will be adjusted to fit the needs of our casting.

NICK BOTTOM (Male, mid 20s to late 30s) A struggling renaissance writer at the end of his rope. Nigel's older brother. Incredibly jealous of the success of William Shakespeare and will do anything to beat him. Seeking a great comedic actor who sings, tap dance skills a plus. (Baritone)

NIGEL BOTTOM (Male, mid 20s to 30s) Nick's younger brother. A sweetly naive young writer and poet, perhaps a little awkward. He falls in love with Portia and ultimately finds confidence in himself through art and love. Seeking a great comedic actor who sings very well. (High baritone/tenor)

WILLIAM SHAKESPEARE (Male, mid 20s to 30s) Over the top, cocky, a true rock star of his time. Think Mick Jagger or James Brown. Seeking a comedic actor with a killer pop/rock voice, tap dance skills a plus. (Rock tenor)

THOMAS NOSTRADAMUS (Male, 40s to 60s) A soothsayer who almost sees the future correctly. A bit loony. He predicts that Nick and Nigel will write a musical. Seeking a comedic actor who sings and moves very well. (Baritone)

BEA (Female, mid 20s to 30's) Nick's wife and "Right Hand Man". She loves and supports him despite his questionable decision making and lack of success. Bea resorts to dressing up like a man to make ends meet and to prove to Nick she can be an actor. Seeking a comedic actress who sings very well. (Belter)

PORTIA(Female, 20s to 30s)An adorably quirky Puritan girl whom Nigel meets on the street. They fall madly in love with each other over their mutual love for Shakespeare and poetry. Seeking a great comedic actress who sings very well. (Youthful soprano with a strong mix)

MINSTREL (Male, mid 20s to 40s)Seeking a charismatic actor with a thousand faces. Should have a soaring voice, tons of charisma and an amazing sense of comic timing. (Baritone)

BROTHER JEREMIAH (Male, 40s to 50s)A Puritan, but also "a little light in the loafers". The father of Portia and despises playwrights, poets and all things ungodly, Nick and Nigel included. Looking for a strong comedic actor that sings well. Tenor/Baritone. Some movement required.

SHYLOCK (Male, 40s to 60s)An older Jewish man. Nick and Nigel are in debt to him. He becomes an investor in their musical - great comedic actor.

LORD CLAPHAM (Male, 40s to 60s)Patron of the theatre. He's flamboyant and extremely posh. Looking for a great comedic actor that sings well. No dance required.

ENSEMBLE (Various ages/ethnicities) Seeking traditional dancers and quirky character types who are strong singers that move well (tap dance skills a plus). Will portray various character parts throughout the show.